Back to Articles
Create with Crown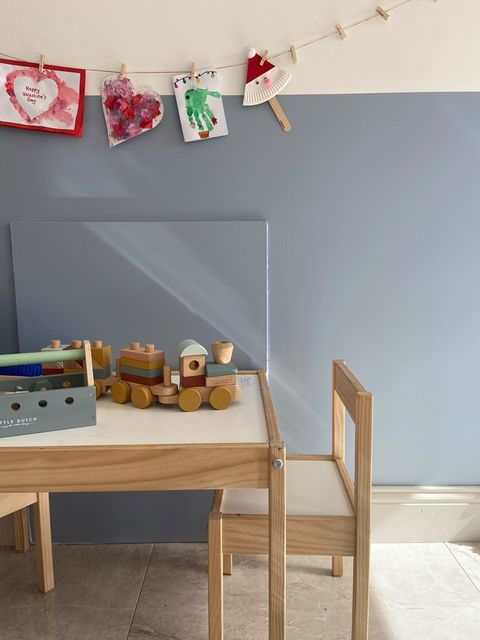 We absolutely love seeing the beautiful things our customers create with their Crown products, and we were recently blown away when we came across a playroom makeover by Caoimhe Connolly (@houseontheborder on Instagram). Caoimhe designed a stylish modern space where her boys can let their imaginations run wild and play to their heart's content! Somehow Caoimhe managed to make this special room both lively and soothing, mixing soft shades with playful touches such as the fabulously fun rainbow polka-dot feature wall! In our opinion, it's just the right amount of peacefulness and pizzazz!
We reached out and asked Caoimhe about her design process and she very kindly obliged. Here's what she had to say!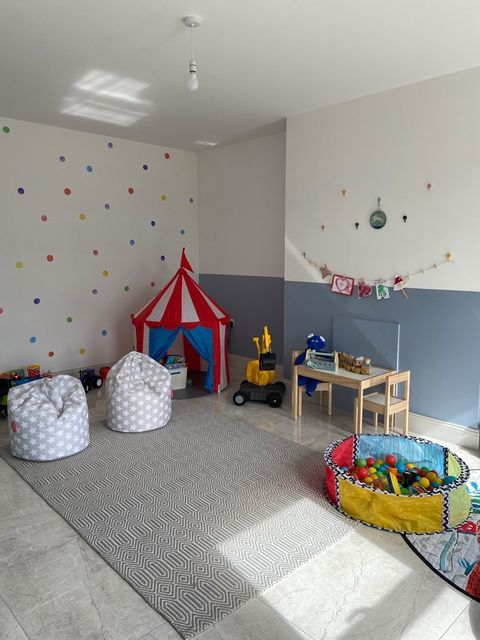 How would you describe your design style?
Modern, understated, refined and practical.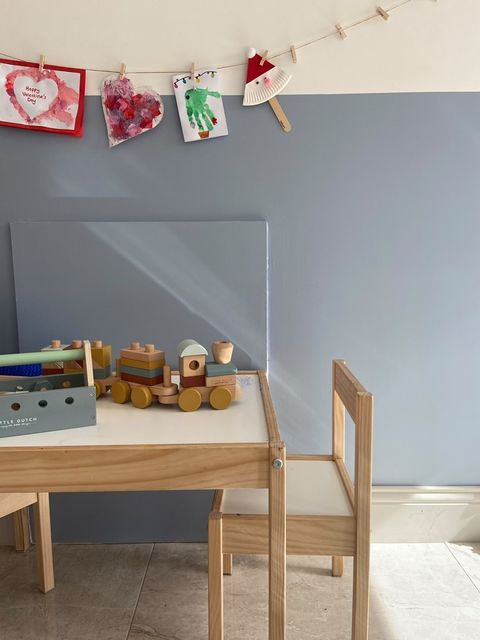 What Crown colour(s) did you use and where/on which areas of your room?
Stonewall in EasyClean Matt. I colour-blocked the lower half of the wall to anchor the room, give it a more completed feel and add some visual interest.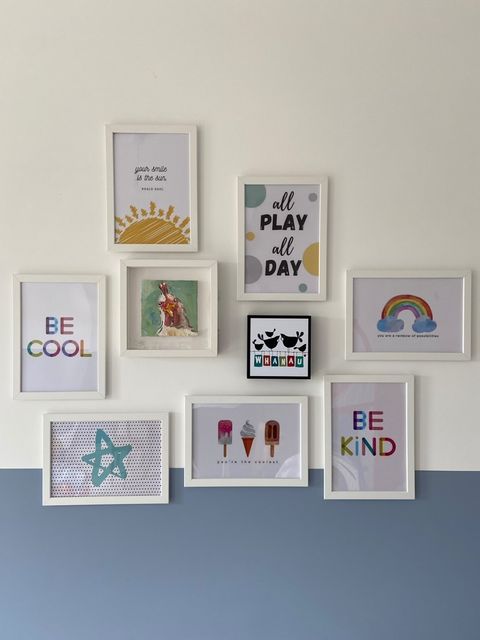 What inspired you to choose the colour(s) you did?
I wanted it to be a fun and playful room for our two young boys, while still suiting the style and colour palette throughout the rest of our home, which is mainly shades of grey and white. I wanted a shade of blue that would be bright and fun, without being too overpowering and something sophisticated enough that would grow with them. Stonewall was a perfect mix of grey and blue, adding warmth and character to the space.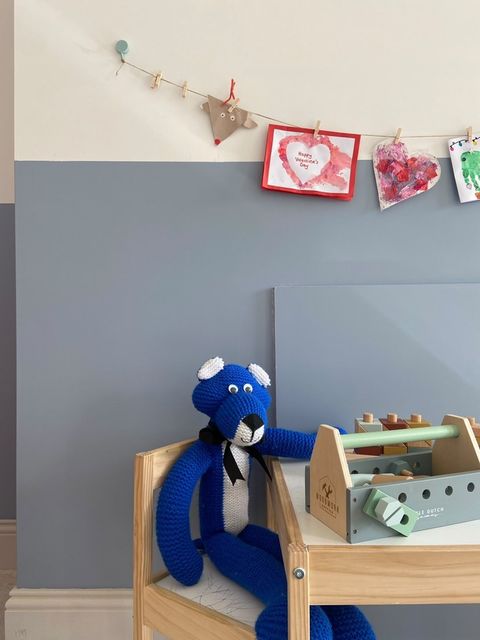 How did you find the paint to work with?
I found it very easy to work with. The pigmentation was excellent meaning it only needed two coats and it went on very evenly. I worked with frog tape to achieve a crisp, clean line between the two colours and the even finish of the paint made this very easy to achieve.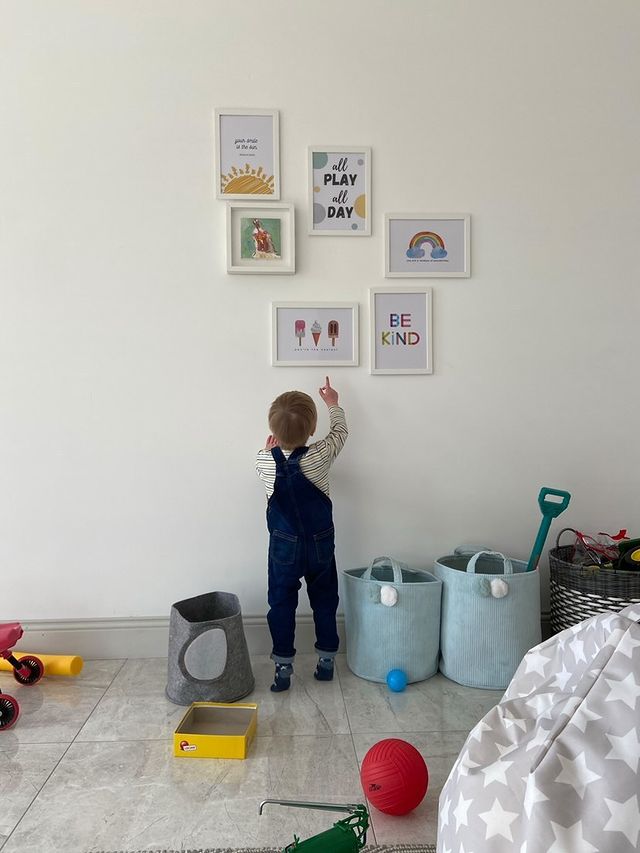 How do you like your new space?
We absolutely love it! It turned out far better than I imagined and while it's the boy's playroom, it's a room we all enjoy spending time in as it gets a lot of natural light, meaning it's a warm and bright room. Our choice of paint colour definitely adds to the warm and inviting atmosphere in the room.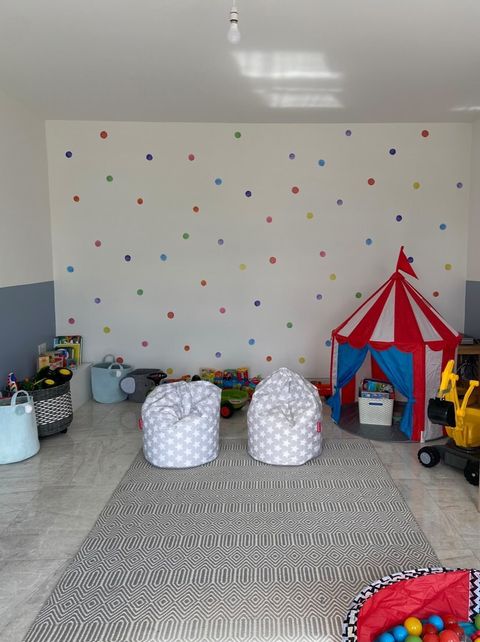 Any other thoughts/details you'd like to share about your project?
When we built our home 3 years ago, this was always to be a second sitting room, or the "good room". When we moved in it was just myself and my husband so we didn't need a second sitting room at the time and we put our finances towards completing other areas of the house. We had tiles laid in this room and had it painted white and closed the door on it. When the boys arrived and all their toys too, it soon made sense to make use of this generously sized room as a playroom for them. We didn't want to spend a huge amount transforming the room, but we still want it to feel completed for them, as well as being inviting to us. Initially we thought about leaving it plain white, but it felt unfinished. I felt colour blocking a bold, playful colour would transform the room, while not having to commit to a full room in a bold colour. I decided to take the colour block around three walls and used self-adhesive coloured dot stickers on the back wall to keep the room playful.
Thanks very much for sharing your story with us, Caoimhe! If you'd like to see more of Caoimhe's gorgeous house, be sure to follow her on Instagram at @houseontheborder.