Back to Articles
Create with Crown: Shauna Morgan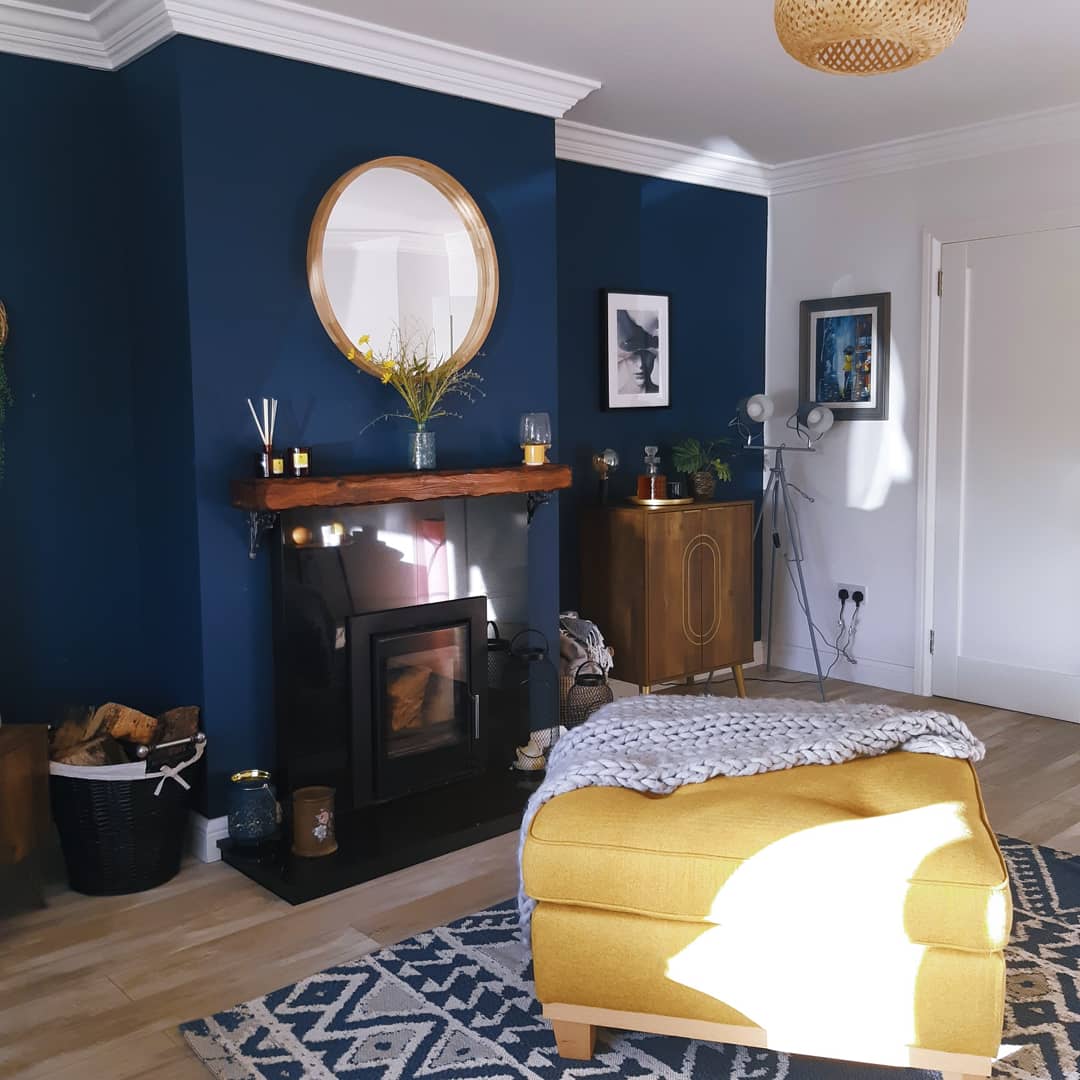 We always love seeing the gorgeous projects that our customers create using our range of products. We recently came across Shauna Morgan's stunning living room mini makeover on Instagram, and wanted to get more information on Shauna's process and inspiration.

Shauna used the shade 'Movement' from our Elle Decoration range to create a tranquil and contemporary space that we'd be very happy to spend some time relaxing in. She expertly paired the dark blue wall colour with warm wood tones and gold accessories, which play beautifully off each other.

As you may know, sunny yellows with strinking blues is one of our favourite colour combinations, and Shauna chose a stylish yellow ottoman that certainly pops. The addition of a patterned area rug that incorporates the surrounding colours makes for a flawless finish to the room. It is certainly a feast for our eyes!

We asked Shauna some more questions about this fun and fabulous interior retreat. Read on to see what she had to say…

How would you describe your design style?
Probably mid-century modern with a hint of scandi in there! 
What Crown colours did you choose?
I used 'movement' from the Elle decoration collection on the back wall of the living room. I initially was only going to use it on the protruding wall above the fireplace but it turned out so nice, I covered the entire wall.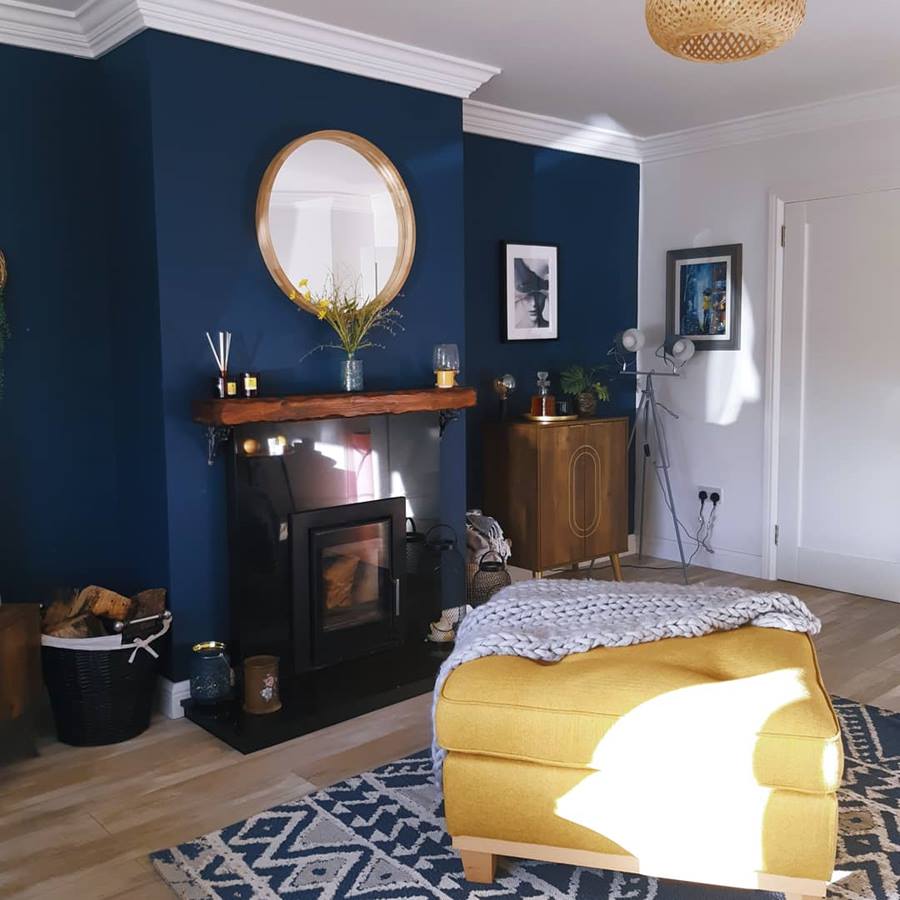 After
What inspired you to choose the colour(s) you did?
I am obsessed with navy blues and deep green shades at the moment. Before I moved into my house I had done a painting using mainly blue and yellow shades and I knew I wanted a paint shade that would match this. It took a lot of testers before I found the right one! The deep, dark blue of this paint worked perfectly. I found the shade to be warming, moody and inviting. Perfect for a cosy space! 
How did you find the paint to work with?
Perfect, it went on smoothly, I just used two coats and I had it finished in no time. It was very satisfying!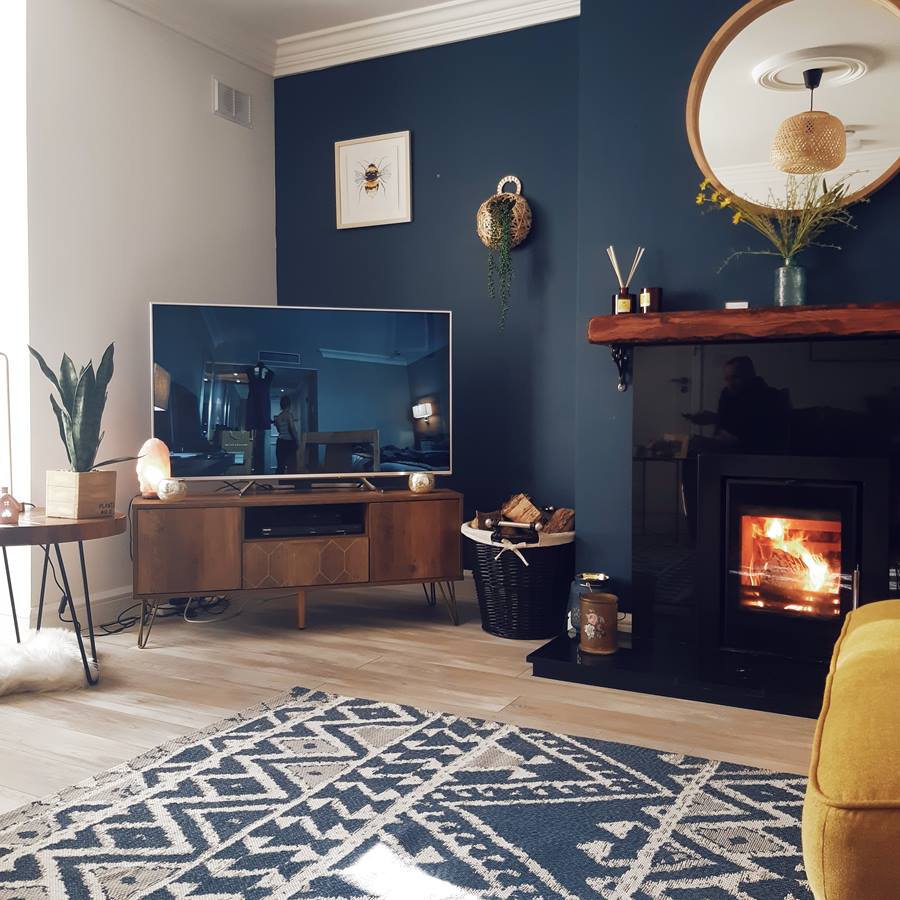 After
How do you like your new space?
I Love it! I have to say, I am still tempted to paint the remaining white walls with this navy shade, but we will see…. It has really added character to the room and makes it stand out. A lot of the time it takes me a while to get used to a new colour on the walls but I loved this one straight away. 
Any other thoughts/details you'd like to share about your project? 
Always use testers! I had a different shade of blue on this wall before and I really didn't like it. Be patient, try out different shades until you find your match. 
Thanks very much, Shauna for sharing a piece of your home with us, along with some fantastic design advice! We highly recommend you give Shauna a follow on Instagram at @beeinspiredinteriordesign for loads of wonderful design inspiration and lifestyle loveliness.
If you're feeling encouraged to start a project of your own, call into your local Crown Paints stockist for all the supplies you may need and expert decorating recommendations to ensure things run smoothly and that you get the results you want.